The author Kurt Vonnegut was a man with a singular and unique view of the world. Not just in his stories, either; his literary theories are similarly simple at face value, but gently unfurl to reveal deeper meaning and undercurrents of social commentary. The man himself called one particular theory, his rejected master's thesis on the shapes of stories, his "prettiest" contribution to culture.
Vonnegut's idea is that the main character within any story lives through positive and negative experiences that can be plotted to a graph. The shape of the resulting line, he says, is a reflection of societal culture that can tell us just as much from an anthropological perspective as studying pots, spearheads or hieroglyphics.
The x-axis is time, from the beginning to the end of the story; the y-axis is wellbeing, from sickness and ill fortune at the bottom to happiness and good health at the top: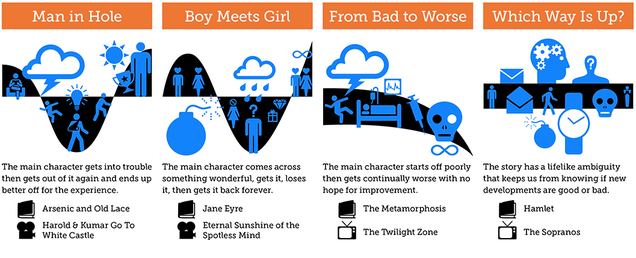 Now, imagine you were the main character in your own story – or better still, you are writing the autobiography of your life so far – and you plotted out every positive and negative emotional experience you have; what would that line look like? Chances are it wouldn't fit perfectly into any one of the above structures but the point is that, while nobody's line is ever completely stable, our stories all differ. Some people spend more time in the positive part of the graph than others, they have found a way to live that is resilient to the various ways in which life can drive one towards negative feelings or misfortune. Of course, we all have good days and bad days, wins and losses, but it's how we perceive and react to these events that determines the trajectory of our storyline.
So, what are the factors that influence our perception of the kind of story we are each working on? If you could tell a child how to be the author of their own positive and successful story, what advice would you give him or her? To understand that we need clarity about what we mean by the desired end state – that is, wellbeing or 'psychological wellbeing'. At Robertson Cooper in our work with clients we define this as experiencing both positive emotions and having a strong and enduring sense of purpose: so feeling good and doing things that make you feel good, whilst also having clear and achievable overall goals – for your day, for the year, for your life! Without both you cannot achieve true fulfillment.
Returning to the metaphor, having a clearly defined sense of purpose is crucial to establish an end goal in any story, it gives the character something to aim for and measure his/her success by. Experiencing positive emotions is about many things – from knowing what creates that for you (purpose), through giving yourself permission to experience them, to being 'in the moment' and mindful enough to see them when they happen. There's plenty to think about here, but in terms of determining whether a person, in the final analysis has led 'a life well lived' other factors are also at play:
Your Personality – where do you draw your ability to cope from? Is it confidence? Are you adaptable? Is it your strong sense of purpose or the support networks you create? We all have a preferred source or sources. Are you fatalistic about what life throws at you or do you need to take control? Such choices have deep roots in personality, more on that to follow.

Putting yourself in situations that maximise your personality – as with any fictional character, our personality contains characteristics that can be viewed as strengths or weaknesses depending on the situation in which they are exhibited. For example, a natural introvert would probably not have a good experience speaking on a stage in front on 5,000 people; but they might harness their introversion to spend six months writing a best-selling novel. Indeed, to draw on a literary example, Jane Eyre's values of freedom and independence are initially subdued by her oppressive upbringing; but she flourishes after grasping the opportunity to express these values as a governess.

Normal 0 false false false EN-GB JA X-NONE


The way you process success and failure – we all succeed and fail sometimes, but the consequences depend on how we process those events. Ask any professional sportsperson and his/her coaching team! Some people always tend to look inside for reasons, some tend to look outside – but some are adaptable depending on what has happened. The choices you make after significant events invariably affect the next stage of your story.

Normal 0 false false false EN-GB JA X-NONE

The role of support networks – people need people! ..and the strength and diversity of the network with which you surround yourself will hugely affect the course of your life story. This includes your willingness (as mentioned above) to access it and ask for help. For some this is second nature, for others who are used to finding the answers independently it comes much harder.

Luck! It sounds glib… But we all get good luck and bad luck along the way… and in any story fictional or otherwise it plays its part. But some people work with the lucky breaks they have while others stand by andwatch luck come and go. So the trick is to fold the good luck into your life story and make it part of who you are, while dealing with the bad luck and bouncing back.
The way in which these aspects of you and your life combine largely determine how resilient you are and therefore how you are likely to respond to life's challenges. In turn, the implication is that resilience is a key determinant of the shape of your story.
Resilient people and organisations are characterised by their ability to endure frustrations, find redeeming value in testing circumstances and bounce back from misfortune. You don't need to look far in English literature for examples: Charlotte Brontë's Jane Eyre is a young orphan subjected to emotional and physical abuse as a child who develops into a passionate, resilient and strongly principled woman. In Jane's case, her adaptability is her strongest natural psychological asset yet she develops other areas of her resilience over the course of the novel, particularly the confidence to speak her mind.
Things happen to us in life, but that is not the same as saying that life as a whole just happens to us. As Kurt Vonnegut's mercurial theory implies, things happen during a lifetime but we then have the authorial choice or power to make other things happen in response – and in doing so we give ourselves a say in determining the shape our own story.
Want to know more about putting yourself at the centre of your own wellbeing story? Our latest free download – Resilient UK – will be available next week, a collection of individual stories that reveal a personal insight into the psychology of living, working and thriving under pressure.
If you're interested in developing individual or organisational resilience head here to get your free i-resilience report.
Watch Vonnegut explain the theory in his typically offhand manner below:
{source}
<!– You can place html anywhere within the source tags —>
<script language="javascript" type="text/javascript">
// You can place JavaScript like this
</script>
<?php
// You can place PHP like this
?>
<iframe width="420″ height="315″ src="https://www.youtube.com/embed/oP3c1h8v2ZQ" frameborder="0″ allowfullscreen></iframe>
{/source}